One Tool – Answers to 4 Key Business Questions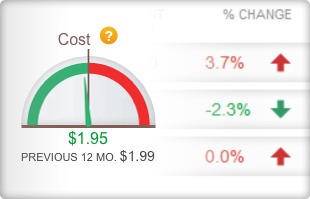 EnergyPrint's online energy management dashboard helps you understand your buildings' energy and water use at a macro level – simply and quickly.
How It Works
First, we gather your utility data for you and input it into the EnergyPrint tool. Then, we train you on the dashboard and share insights we've developed from your historical data. We provide you monthly updates on your energy and water use trends, and send alerts on noteworthy changes in usage or expense.
Get Answers
Finally, you use the tool's easy-to-understand charts and graphs, generated by EnergyPrint's powerful analytics, to continuously answer four essential business questions about your buildings.
See just how simple it is. Click here to watch a 6 minute video, or have a member of the EnergyPrint team contact you.
Are they using more energy and water than they should? How are they using it? When are they using it?
Are your buildings using more or less energy and water than in the past? How does your usage compare to other buildings in your portfolio or similar buildings in EnergyPrint's database? Is this due to weather or does it point to possible issues that can be corrected?
Once energy and water use are understood, opportunities for savings can be identified and quantified. Where should you focus your efforts? Where should you have your building engineer dive deeper?
After improvements have been made, it can be difficult and complex to understand whether they have saved you money. Are you now using less energy and/or water? Did your project cause more energy use elsewhere or for another building need? How much have you saved in energy expense?
Want more details or a product demo? Contact us.