Reveal Your True Performance With Benchmarks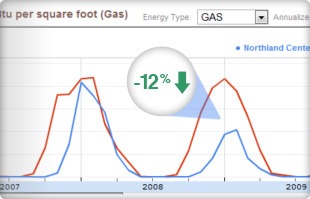 Definition: Benchmarking is the ongoing monthly review of energy performance to determine if a building is getting better or worse in comparison to itself, other buildings in the portfolio, and/or peers.
The Benefits of Benchmarking
This feature puts your property-level data into context by measuring and comparing it:
Against standard benchmarks
Year-over-year compared to itself
Peer groups
Doing so gives you a starting point for pre- and post-audits on capital improvements aimed at increasing operational efficiency and reducing costs. We can benchmark using as much historical data as clients provide, so you can:
Rank energy performance and track trends
Locate which properties are getting better or worse on a relative basis
Get the justification needed to plan improvements
Determine if conservation strategies are working
Provide accurate data reports to management
Trustworthy Data
EnergyPrint takes great steps to ensure accurate data. We manage our own database of comparable buildings, regional similarities and vertical industry standards. Added plus: EnergyPrint benchmarks integrate seamlessly with ENERGY STAR®.
Want more details or a product demo? Contact us.