Get Instant Answers From Your Dashboard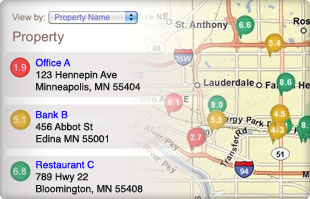 Extremely dynamic, our utility dashboard delivers your macro energy picture compiled in a central, instant-read visual display. Keep it broad or let us break it down by portfolio, region or building. For starters, the utility dashboard lets you:
View a geographic map of your portfolio
See ENERGY STAR® rating
Roll up for portfolio comparisons
Drill down for specific property details
Sort and rank buildings by performance variables
Your Benefits
Have essential information at your fingertips to:
Streamline energy budget creation and management
Identify variables that cause budget fluctuations
Communicate up, down and across your organization
Accurately respond to management requests for energy data reports
Identify/prioritize opportunities to save
Know your environmental impact (carbon footprint)
What We Monitor
Via the utility dashboard, closely monitor your three C's: energy cost (dollars/sq. ft.), consumption (kBtus/sq. ft.) and carbon (pounds of CO2/sq. ft.), plus water usage for the previous and current 12 months running.
Want more details or a product demo? Contact us.