Plot Actionable Steps with Comparable Reporting Features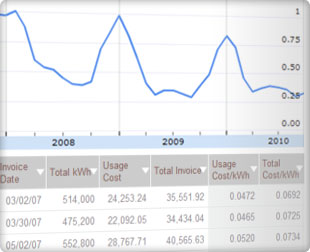 Energy reporting is where EnergyPrint really proves its value. By digging into data-banked details (and sorting data any number of ways), this feature answers the property manager's most burning questions: the who, what, when, where, why and how of energy use by property, portfolio, utility type and more. Foremost, it provides:
Answers to Anomalies
Is a building consuming more/less than it should?
Who are the highest performers and how can I replicate them?
Who are the lowest performers and how can I improve efficiencies?
Did weather play a factor in usage and how so?
Did the utility company make billing errors?
Answers to Capital Improvement Plans/ROI
Where are capital improvements needed?
Are past capital improvements working?
What does my ROI look like per improvement?
Which vendor is accountable for the promised ROI?
What We Monitor
EnergyPrint gathers thousands of pieces of data to ensure accuracy. This includes monitoring your three C's: energy cost (dollars/sq. ft.), consumption (kBtus/sq. ft.) and carbon (pounds of CO2/sq. ft.), plus water usage.
Want more details or a product demo? Contact us.