Get Cleaner Data by Removing Weather Variables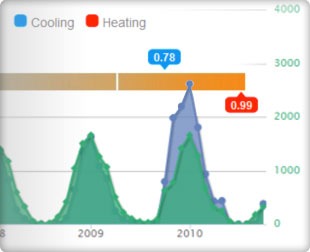 Do you know if weather plays a role in your property's energy consumption? EnergyPrint is the answer. Our weather normalization feature isolates building performance from fluctuations in air temperature. In our simple, one-page monthly report, customers can quickly:
See the true impact of energy improvements with clarity over time
Make "apples to apples" comparisons from season to season and between geographic regions
Gain perspective on how heating degree days and cooling degree days impact energy performance.
How Weather Normalization Works:
Our program takes complicated data, including math, statistics and meterology, and transforms that information into an easy-to-read report. Building professionals get a complete energy consumption picture without digesting mounds of energy data or investing in an engineer's manual weatherization analysis.
Want more details or a product demo? Contact us.