ENERGY STAR® Upgrade Coming July 2013:
EnergyPrint is Ready. Are you?
On July 10, 2013, the EPA will release a complete upgrade to the ENERGY STAR Portfolio Manager. EnergyPrint has completed and tested the required technical development and is ready for the Automated Benchmarking Services (ABS) transition. In fact, we took this opportunity to add some new functionality to allow you to visually track your ENERGY STAR rating trends.
If you are an existing EnergyPrint customer, we will be monitoring the transition of your data to the new Portfolio Manager. In addition, you will be able to view your ENERGY STAR rating at anytime via EnergyPrint while the Portfolio Manager is down for maintenance from June 26 through July 9, 2013. Stay tuned for the new enhancement to be launched July 10.
Streamline ENERGY STAR Efforts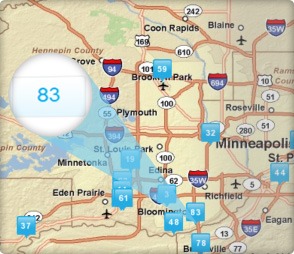 Achieving ENERGY STAR or LEED® certification has become a top priority for many property personnel. But that effort requires intense data and creates an administrative burden. EnergyPrint is an Automated Benchmarking Services (ABS) partner for ENERGY STAR. That means our technology fully integrates with their system, giving our robust reporting the ability to help you:
Determine your rating
Improve your overall rating
Certify your building
Maintain certification more efficiently
If you don't have an account, we'll set one up for you. If you're already in the system, we'll automatically update your properties in the ENERGY STAR Portfolio Manager.
The Benefits
Manage your data and update your ENERGY STAR metrics
Autmatic syncing with Portfolio Manager
Trend graph tracks ENERGY STAR performance over 24-month period
Highlights from Portfolio Manager are easy to find in one accessible location
Assess energy performance against a national benchmark database
View your rating and identify properties that qualify for ENERGY STAR recognition
About ENERGY STAR and LEED
ENERGY STAR is a U.S. Environmental Protection Agency (EPA) voluntary program that helps businesses and individuals save money and protect our climate through superior energy efficiency. To learn more, visit www.energystar.gov.
The LEED green building certification program is the nationally accepted benchmark for the design, construction and operation of green buildings. To learn more, visit www.usgbc.org/leed.
Want more details or a product demo? Contact us.