EnergyPrint Earns ENERGY STAR® Partner of the Year — Sustained Excellence
Apr 6, 2017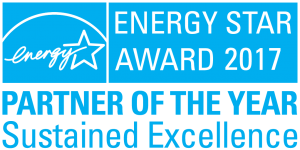 Saint Paul, Minn., April 6, 2017 – EnergyPrint has been named a 2017 ENERGY STAR Partner of the Year – Sustained Excellence Award winner by the U.S. Environmental Protection Agency (EPA) for its continued leadership in energy efficiency achievements. This marks the third consecutive year EnergyPrint has been recognized as an ENERGY STAR Partner of the year. Additionally, this is first time the company has achieved Sustained Excellence status—the EPA's highest honor.
An ENERGY STAR partner since 2010, EnergyPrint will be honored for its dedication to collaborating with businesses to help commercial buildings improve their energy performance through its products and services. The company's accomplishments will be recognized by the U.S. Environmental Protection Agency and the U.S. Department of Energy in Washington, D.C. on April 26.
"We're proud of our continued commitment to helping building professionals leverage utility data insights to take action and increase energy efficiency," said EnergyPrint President & CEO Priscilla Koeckeritz. "Our award for Sustained Excellence showcases that effort."
EnergyPrint offers its services primarily through regional energy solution providers, and directly to buildings owners on a portfolio basis. EnergyPrint's utility data services, online dashboard and custom reporting help customers understand and demonstrate building energy performance, and prove whether energy improvements return financial savings.
As an ENERGY STAR Service and Product Provider partner, EnergyPrint's technology fully integrates with the Portfolio Manager tool—allowing the company to help their clients easily track their ENERGY STAR scores, and achieve and maintain certification.
"Our Partnership with ENERGY STAR has been an invaluable tool for helping us engage clients with our products and services," said EnergyPrint Product Manager Ben Herkenhoff. "Our integration with Portfolio Manager allows us to effectively manage accounts for our clients and incorporate ENERGY STAR information within our robust utility analytics—delivering unique building insight."
The 2017 Partner of the Year – Sustained Excellence Awards are bestowed upon a diverse set of organizations that have demonstrated continued leadership in energy efficiency. Winners hail from small, family-owned businesses to Fortune 500 organizations – representing energy-efficient products, services, new homes, and buildings in the commercial, industrial and public sectors.
For a complete list of 2017 winners and more information about ENERGY STAR's awards program, visit www.energystar.gov/awardwinners.