EnergyPrint Can Increase Your Sales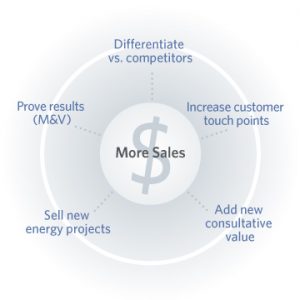 Are you interested in gaining more repeat business from your current customers, and having an incremental value offering to gain new customers through helping them save energy in their buildings?
EnergyPrint can help you differentiate yourself and gain sales in the fast growing business of building energy management and energy efficiency.
Our tool provides a simple, online energy management dashboard solution that enables you to increase your business with existing and new customers through:
Differentiating yourself vs. competitors
Increasing the touch points you have with your customers
Adding new consultative value
Selling new energy efficiency projects
Proving the results of energy efficiency projects (measurement & verification)
We are continuing to look for additional resellers to expand our rapidly growing network. For more information, contact us now.