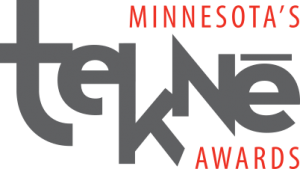 [St. Paul, Minn., Oct. 4, 2018] – EnergyPrint is a finalist for the Minnesota High Tech Association 2018 Tekne Awards in the Building Design & Infrastructure category. For the past two decades, the Tekne Awards have recognized organizations that are leading-edge innovators in science and technology Minnesota.
EnergyPrint was recognized for its innovative Utility Dashboard, cloud-based software application that enables building professionals to understand, manage and implement efforts to increase operational efficiency. EnergyPrint provides clients with accurate, validated utility bill insight faster and less expensively than they can gather themselves or find elsewhere. The Utility Dashboard then visualizes energy cost, consumption and carbon information in a way that is simple and easy to understand for building owners, operators and service professionals.
"We're pleased to see the Utility Dashboard honored for its integration in building operation," said EnergyPrint CEO Priscilla Koeckeritz. "It's exciting to see the continued impact we've made providing simple software designed to help our clients make smart business decisions and take action to increase efficiency."
EnergyPrint's innovation in utility analytics placed the company in the top three finalists due to leading-edge technology in Building Design & Infrastructure. The 2018 Tekne Awards ceremony on Nov. 29 will reveal winners among the finalists in 16 categories.
"The Tekne Award finalists this year represent the ongoing strength of innovative Minnesota-based companies," said Margaret Anderson Kelliher, president and CEO of the Minnesota High Tech Association. "They are pioneers in leading-edge science and technology that has impact around the globe."