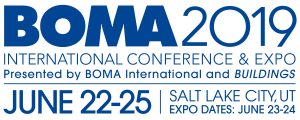 EnergyPrint is excited to be participating in the BOMA 2019 International Conference & Expo—the largest commercial real estate industry event of the year. The conference will take place June 22-25 in Salt Lake City.
Here's all the ways you can interact with EnergyPrint at BOMA 2019…
Attend our Solutions Showcase Session on Monday, June 24
The Solutions Showcase is a chance to see real-world case studies on innovative solutions that property professionals are implementing today. In our session, Priscilla Koeckeritz, CEO at EnergyPrint, and Victoria Gabel, Senior Property Manager at Harvard Property Management, will share a case study on how Harvard is leveraging EnergyPrint's Utility Dashboard to identify building improvement opportunities and implement strategic decision-making to improve their portfolio's overall value. Learn how benchmarking has changed the way Harvard manages reporting and energy consumption across its 100-property portfolio, and simplified their utility reporting process that was once done manually.
Session: Harvard Property Management Simplifies Energy Analysis and Reduces Consumption

When: Monday, June 24, 2019 | 1:25 PM – 1:55 PM
Where: Expo, Showcase Room #2
Visit EnergyPrint at Booth #837
Say hello to our team at EnergyPrint's booth, located in the Green Pavilion at the BOMA Expo. We'll be there to answer any questions and talk all things related to utility data, energy insight and building performance. Stop by our booth to….
Demo EnergyPrint's Utility Dashboard and learn how you can use current, relevant and accurate benchmarking data to improve building performance
See case studies on how other building professionals are leveraging Insights Architect to simplify their energy and sustainability reporting process
Grab some report samples and other EnergyPrint goodies
Schedule an Appointment with Our Team
Ready to discover how EnergyPrint can help your business improve building value and performance? Schedule a consultation with with one of our on-site experts to discuss your utility data needs and learn more about our data, benchmarking and reporting services.