Insights Architect Custom Reporting
Customize your Energy Data Analysis with Insights ArchitectSM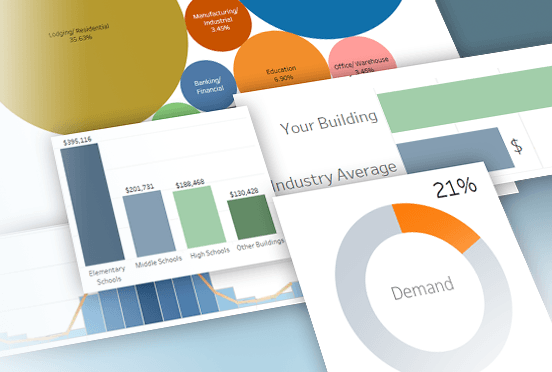 You need to deliver meaningful, data-rich reports and key business insights to drive client engagement and generate more opportunities, despite your capacity and internal resources.
EnergyPrint's Insights Architect eliminates the hassles and drain on internal resources of manual reporting, saving your organization valuable sales and engineering time while making your deliverables consistent, powerful, painless, and repeatable. All without having to develop or learn complicated new software.
Insights Architect is a uniquely consultative business intelligence and data visualization solution that leverages the power of EnergyPrint's proprietary building database to help you uncover the stories hidden in utility data, helping you make better use of your company's high value resources and deliver polished reports with specific, user-defined metrics.
Our team of data professionals collects, aggregates, validates, and standardizes all your utility data so it's incredible easy to use – however you want to use it.
In fact, Insights Architect allows you to interpret and visualize data in limitless ways, reflecting and incorporating your specific solutions and unique expertise, producing better building insight with user-defined metrics that yield concrete action steps for data-driven sales prospecting
You can even incorporate ENERGY STAR® or compare to other datasets like CBECS, regional segmentation, vertical market comparison or customer-provided datasets. Plus, your unique brand is always at the forefront with Insights Architect. We'll create beautiful and professional quality energy reports branded for your specific company.
Give your team the edge with EnergyPrint's Insights Architect.