Does your building need to comply?
Energy benchmarking is required for facilities in cities across the U.S. As a 6-time ENERGY STAR® Partner of the Year, we are pros at getting your Portfolio Manager account current and meeting the reporting compliance of your city. THE EXPERTS ARE IN THE BUILDING.
Using data collected from benchmarking and transparency (B&T) policies, building owners, managers, and operators can identify opportunities to cost-effectively reduce wasted energy and water.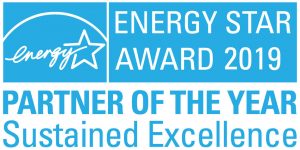 However, the effort and time needed to meet these reporting requirements can be cumbersome when you're drowning in utility bills and manually entering meter data.
ENERGY STAR® Portfolio Manager scores are a commonly used metric for tracking & communicating building performance results but inputting the data & getting the most out of the application can be a challenge.
For over 10 years, we've tracked energy use for thousands of buildings & helped many of our customers meet reporting requirements for corporate sustainability mandates & local benchmarking ordinances.
EnergyPrint can help you get compliant quickly & easily
EnergyPrint leads the industry as a full-service data collection and compliance reporting partner. We not only input and deliver data, but also manage the entire collection and validation process to ensure you have quality data when and where you need to use it.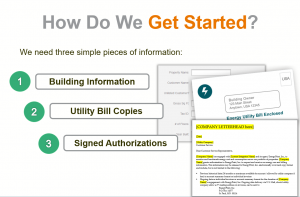 You might think, "This data collection effort sounds time consuming.  What do you need from me?"
EnergyPrint can get your facility started with 3 easy steps:
Building Information – WHERE are we tracking?
Utility Bill Copies – WHAT utilities types are we tracking?

Your Signed Authorizations – WHO approves us to track?
Want more info?
Learn how EnergyPrint's partnership with Community Specialists met reporting requirements in Chicago, IL.
Have a question or want to talk to an EnergyPrint expert?  Contact Matt Arneson at 651-357-9022.
"We've used a variety of providers to do our benchmarking and Chicago energy ordinance submission, and EnergyPrint has been the best at having submissions completed on time without any issues."
- Larry Puder, Technical Operations Manager
Community Specialists
EnergyPrint makes our energy benchmarking easy. We tried to do it internally and faced challenges like working with our utility providers or manually entering utility data into ENERGY STAR. Now that EnergyPrint handles our compliance, it simplified our process and we don't have any of the errors or issues we used to spend hours trying to resolve.
- Steve Pack
Dilweg Companies